When was the last time you stepped out of the house? Has your smile graced the shades of sunshine recently? Every time you step out of the house and the sunlight hits your body, it processes Vitamin D. But, are you getting enough Vitamin D during COVID-19?
There may be spring showers or monsoon where you live. This lessens the probability of you getting out of the house. Not everyone is fortunate enough to have a personal plot, or a garden to take a stroll in.
Under normal circumstances, doing your normal chores outside would give your body all the Vitamin D it needs. But the COVID-19 lockdown has been making us spend most of our time indoors.
This can be challenging, with a risk of developing a Vitamin D deficiency. The Public Health Agency has advised people to take Vitamin D supplements in their diet to tackle this problem.
It is vital to get Vitamin D during COVID-19 because of the following reasons:
Boosting immunity – Immunity plays an important role, especially during a pandemic.
Hormonal balance – It improves hormonal health by balancing our sex hormones.
Improving digestion – It supports a healthy digestive systme.
Bone health – Vitamin D is the key nutrient for better bone health as it regulates the amount of calcium and phosphate in the body. These are both needed for healthy bones, teeth and muscles.
Boosting brain development – It improves brain development in young children.
If you're a non-vegetarian, then good news for you, Vitamin D is gained from two sources which is the sun, and food such as egg yolks, oily fish and mushrooms.
Vitamin D can be further broken down into two components: Vitamin D2 and Vitamin D3.
Vitamin D2 (ergocalciferol) is gained from plant sources. Whereas, Vitamin D3 (cholecalciferol) is gained from animal sources such as fish and eggs. Vitamin D3 is the more powerful component as it is bioavailable and raises blood levels of Vitamin D twice as much as Vitamin D2.
It's advisable to take a blood test to know your Vitamin D levels. The blood levels of Vitamin D are analyzed by measuring 25 (OH) D – 25 hydroxy Vitamin D in the blood.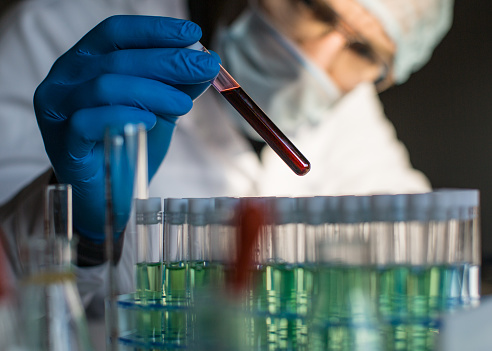 It may have become imperative to keep your levels of Vitamin D during COVID-19 in check so as to not develop a deficiency.
Book your blood test today with 1ML.
Visit 1ML Healthcare Services for more interesting reads.