So it's been raining, and you've got a cold. Bummer. But did you know ginger is one of the best ingredients to get rid of a cold and boost your immunity during monsoons? You can add ginger in any of your food intake, but the best way to consume ginger is through drinks. So we've created a list of 6 savory ginger drinks for you to relish this monsoon. Read on!
Drinks are the feast of reason and the flow of the soul.

Alexander Pope
1. Masala Adrak Tea
Your mother already told you about this, didn't she? Hmm, then why not treat yourself to this delicious drink? After all, rainy days are incomplete without piping hot masala chai and some pakoras. Get those snaps and post them on social media.
This must-try drink is a bubbling hot fury with cinnamon, cardamom, and of course, ginger!
2. Adrak-Litchi Lemonade (Ginger-Litchi Lemonade)
You might have already identified the key ingredients in this drink from its name. Spoiler alert anyway, it's comprised of ginger, litchi juice and lemonade. This drink is sure to cool you down after bustling, long day. This is one of our cold beverage collections and is ideal to drink in the evenings.
3. Ginger Ale
So many T.V. shows portray the characters drinking ale in them. It's okay if you have never tried this drink before, now is your opportunity to make it at home. This drink is easy to make with some lemon juice, mint juice, and ginger. Don't forget to top it with a cut lemon to show off.
4. Honey-Lemon-Ginger Tea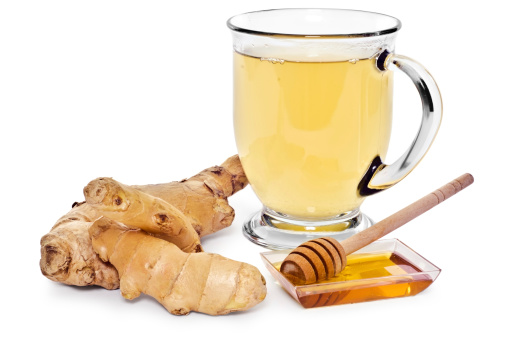 You can never go wrong with lemon and ginger when they're in a combo. You'll never go back to your regular tea after adding honey to the mix. This drink is a major immunity booster with packed nutrients, consisting of honey, lemon and ginger. No need to add any sugar, honey is a complete substitute here.
5. Fizzy Ginger
Ginger, lime, cinnamon and cloves have come together to present to you a fizzy drink that you can serve to your guests with a 5-minute preparation. However, you should avoid this drink if you're diabetic since it contains a high amount of sugar. You can try adding sugar substitutes to try it anyway.
6. Orange-Ginger Detox Drink
Detox your body with this easy-to-make healthy beverage. This drink is rich in Vitamin C, thanks to oranges, and is also rich in anti-oxidants. It contains ginger, raw turmeric, lemon and carrot. This drink will boost up your immunity and also strengthen your weigh-losing endeavors.
Try out these ginger drinks combinations and choose the one you like. There's a drink for every occasion!